8-9 May – Magdeburg, Germany
11-12 May – Magdeburg, Germany
What if you could learn to instantly hypnotize almost anyone?
I have shared with a number of people how wonderful your course was that you presented in Sydney .. They all ask the same question "When is he coming back?" Your course was really great and had such a good time at it… Would have to say as a presenter I loved your energy, really informative, fun and energetic. I have taken enormous amount of trainings over the years but yours was a definite 10 out of 10. – Anna McDonagh (Sydney, NSW Australia)
What would this mean to your hypnosis practice to be able to do these instant and rapid inductions that produce profound hypnosis in clients?
Your course has completely turned my practice around (for the better!) I am so glad I went! Excellent knowledge, and very helpful. Thank you Sean! – Mark E. Beck, (C.H. Florida)
What if you had no prior experience in hypnosis, and you could learn these skills in just one weekend… a weekend where on the afternoon of the first day you were actually hypnotizing people?
Excellent instruction. Built confidence to hypnotize others from zero to arrogance in one day!  – Stuart Urban, (Rockville, MD)
Class Promotional Video from Sean Michael Andrews on Vimeo.
Would the reputation of the instructor, Sean Michael Andrews, have any bearing on your decision?
Passion, skill and integrity mark any training with Sean Michael Andrews. He is passionate about the difference hypnosis can make in the lives of people and the ease with which it can be done. He is skilled both as a practitioner and a teacher. This man knows his material and he stays on the cutting edge. His insightful knowledge about the subject and the energy with which he executes his instruction is unsurpassed. But what I like the most about Sean, is the integrity with which he practices whether he is teaching or seeing clients. It sets him apart. – Denise Oatley Hall (Comedy Stage Hypnotist , Tampa , FL)

Learn Instant and Rapid Hypnosis with the man many consider the "World's Fastest Hypnotist", Sean Michael Andrews
Here's what you will learn:
Selecting the easiest subjects
Preparing the subject for instant trance
Arm Pull induction
Hand Drop induction
Ambiguous Touch induction
Handshake Interrupt induction
Shortened Elman Induction
The phonebooth induction
How to hypnotize by mail or email
The Baby Bunny induction
Street hypnosis inductions
"Ambush" style non-consensual inductions (So you know how to defend)
Highly effective group induction
How to spot someone you should NOT hypnotize
Easy ways to determine depth of trance
Deepeners that REALLY work
Amnesia
Catalepsy
Safety considerations
Instant induction theory. How to invent your own induction by "reverse engineering" other people's instant inductions

Your Instructor
2018 Hypnotist of the Year
2016 Educator of the Year
2013 Hypnotist of the Year
Sean Michael Andrews
By noon, the first day of class, if for any reason you are not completely satisfied with the course, your entire tuition will be refunded to you… immediately.
Internationally acclaimed trainer Sean Michael Andrews, considered by many to be the world's fastest hypnotist, is a graduate of Regents College and of Omni Hypnosis Training Center, He has also trained in Ericksonian hypnosis with Bennett/Stellar University. Sean is the supervising instructor for the Dave Elman Hypnosis Institute. He is a Master Practitioner of Neuro-Linguistic Programming, and is a Certified Life Coach. Sean holds a black belt in Taijutsu Karate. He is certified with:
National Board of Hypnosis Education and Certification
International Medical and Dental Hypnotherapy Association
Society of Neuro-Linguistic Programming
National Guild of Hypnotists
We offer instant hypnosis courses around the country. If you want to take our training, drop us an email and let us know. If we get sufficient interest we will offer the course in your city.
These inductions are not just for stage hypnosis. By using instant/rapid inductions in a clinical practice, the hypnotist has much more time to do the therapy. This is a win for the hypnotist and a win for the client.
Most hypnosis schools do not teach instant and rapid inductions. Why is this? It's because few instructors know how to do these inductions. We do, and we can teach you to do them too!
*The cost of meals and hotel are not included.
Note: Certified hypnotists can earn 16 CEU hours by attending this class. Ask instructor for details

Here are some more testimonials from former students:
Fantastic, entertaining course. Loved the way the information was tailored to the group's specific need. – Michael Goldblatt MD (Adelaide, South Australia)
---
Excellent. Loved it. Lots of practice time. Please come back for Age Regression. Terrific. I'm in! – Linda Hay CH ( Ottawa , Ontario )
---
Great course! Well worth the trip to Sydney. I'm feeling a lot more confident doing instant inductions now! Thank you. – Silke Herwald (Brisbane, Queensland)
---
I'm going away with more confidence and great skills for my hypnotism tool box – Chris Rawlinson CH ( Ottawa , Ontario )
---
A great information packed seminar that incorporates ample hands on practice to increase confidence and success with clients. – Kelly Lightheart CH ( Ottawa , Ontario )
---
A fun and instructive course, even for a beginner. I found it very useful and relevant. – David Bednarczuk MD (Adelaide, South Australia)
---
Excellent course! I have a great understanding of so many inductions including Elman. – Jason Gordon CH ( Ottawa , Ontario )
---
Sean Michaels Andrews' Rapid / Instant Seminar is a great tool for every hypnotist who wants to bring their inductions into our current age and time! With the knowledge you gain from Sean's seminar you will be able to do some fun Street Hypnosis and do it SAFELY. Sean does a great job of covering most bases you will encounter when doing Street hypnosis so get ready to put your skills ahead of the rest. – Jason , Certified Hypnotist, Ohio
---
Sean has an infectious, positive energy that makes for an excellent learning experience. – John Filiss, (C.H. Florida)
---
I have been a professional hypnotist since 2002 and still learned useful techniques from Sean Michael Andrews' one-day "Instant & Rapid Inductions" training. Sean's teaching style is fun, fast moving and highly informative because of the breadth and depth of his own hypnosis training. – Judy McBride, CHt ( Annapolis , Maryland )
---
Sean's level of knowledge was phenomenal. He walks his talk – Peter McAuley, (Sydney, NSW Australia)
---
Great course. Crisp, clean, with great demos and plenty of practice and very rapid learning! – Oscar Gillespie, ( New York )
---
This was wonderfully comprehensive. Great teacher. Great classmates. – Kristy Kissel, ( Florida )
---
This was a most interesting presentation which was so much fun we didn't realize eight hours had passed. – Linda Chidlow (C.H. Canada)
---
Very comprehensive coverage of techniques. Entertaining, informative and educational. – Cheryl Campbell (Sydney, NSW)
---
Mr. Andrews' style of teaching was engaging and thorough while his personality provided an enriching and jovial atmosphere. His command of knowledge surrounding the applications of hypnotherapy were vast and I would definitely encourage anyone to attend Sean Andrews' classes! – Sean G., Certified Hypnotist
---
A great class for learning both instant and rapid inductions AND the theory behind them in order to create our own inductions. Time well spent! – PS (Columbia , MD)
---
Lots of fun! Sean was encouraging to everyone, with plenty of opportunity to hone your new skills. – Roxene Cossill (Sydney, NSW Australia)
---
I feel that I can reliably and confidently hypnotize people in street and public situations. Great! – I. (Howard County , MD)
---
Excellent mixture of background material, demonstrations and hands-on experience! – Carmen Benitez (Annapolis , MD)
---
An Excellent intro and overview of hypnosis – Steve Wilkinson C.H. (Indiana)
---
Excellent course. Packed with lots of good material and training. Very practical! – Shahz Bagha (Toronto , Ontario)
---
This is my first experience both as a subject and student hypnotist. The quality and level of instruction and practical experience of Sean & Stephanie made it enjoyable and excellent – Eddie Leong (New Jersey)
---
Thanks Sean. I have so much more confidence now using instant inductions. Great seminar. 🙂 – Craig Homonnay CH (Adelaide, South Australia)
---
I really liked it. The course gave a thorough and in-depth instruction on rapid hypnosis, and covered all the material in just a few hours. I am able to not just retain, but USE the info learned. – Rachel O'Connell (McLean , VA)
---
Hey Sean. Just wanted to thank you again for coming up to Ottawa . Had an incredible time. You are a fabulous teacher and we are already looking forward to your return. Save travels and I thank you again!! – Kenda McCaskill CH (Ottawa , Ontario)
---
This course is worth every penny of the cost and then some! Sean's follow-up help after the course is excellent also! – John Wimbish, (C.H. Florida)
---
Instantly elevated my hypnotism skills. Finally I have an answer for the age old question. "So, you're a hypnotist. Show me something right now! – David Studor CH (Ottawa , Ontario)
---
Excellent class for a complete beginner. Enthusiasm of Sean is very contagious. – Evan Brown MD (Adelaide, South Australia)
---
Sean is the Rapid Induction Guru. If you want to learn rapid inductions, this class is for you. – Kunle Ajose C.H. ( London , UK )
---
If you want to gain confidence in instant and rapid inductions, this is the course to take! – Edith Miller CH (Ottawa, Ontario)
---
A great, fun course. Something for everyone… learned lots. – Julie Stanley CH (Perth, Western Australia)
---
Awesome – Such fun while learning some very powerful techniques. Thank you. – Belinda Barrie CH (Brisbane, Queensland Australia)
---
5 out of 5. A real eye openers to what is achievable using rapid inductions. Definitely something I will be practicing now I am aware of its capabilities. – Arnold Scott CH (Brisbane, Queensland Australia)
---
The course was very entertaining, concise and practical. I learnt a lot of new skills and got to practice them with great success on the day.. – Paul Barrett CH (Brisbane, Queensland Australia)
---
The learning never ends, does it?! Enjoyed the group dynamics plus Sean's expertise and attention to details. Great to experience such advanced work personally. – Julie Meaden CH (Brisbane, Queensland Australia)
---
Rapid learning, rapid induction, rapid fun. I enjoyed the humble and efficient teaching style. Very refreshing. – Annie Garrett CH (Brisbane, Queensland Australia)
---
I have been a hypnotherapist for many years and attended many workshops… a couple for instant inductions. This class with Sean has been a lesson of re-learning the right way. Thank you Sean. – Sandra Williams CH (Brisbane, Queensland Australia)
---
5 out of 5. Really Informative & Interactive. – Lindsay Galloway CH (Brisbane, Queensland Australia)
---
The information I've learnt is priceless. – Reyonald Javien CH (Brisbane, Queensland Australia)
---
I have definitely grown in confidence and can't wait to get practicing especially on my Dad! (Who has also done your course.) – Rebecca Elson CH (United Kingdom)
---
Congrats on a great training! Very enjoyable and informative. – Julie Grant CH (Brisbane, Queensland Australia)
---
My confidence with using these techniques has increased amazingly. This was highly beneficial to my practice of hypnotherapy. – Wendy Arnold CH (Brisbane, Queensland Australia)
---
Learnt Heaps!!! – Malan CH (Brisbane, Queensland Australia)
---
Fantastic – Answered all my questions I had coming in today. – Graham Shannon CH (Brisbane, Queensland Australia)
---
Train with Sean; he's fabulous, he's great; you'll love it! – Mandy Moore CH (Brisbane, Queensland Australia)
---
I had a fun time… It was easier than I thought it'd be. – Sean Klassen (Brisbane, Queensland Australia)
---
Sean teaches you exactly what you need to know about rapid inductions. Very knowledgeable. An exciting experience. I highly recommend taking his course.  – Jaime Diaz (Stage Hypnotist, Florida)

Join these recent graduates!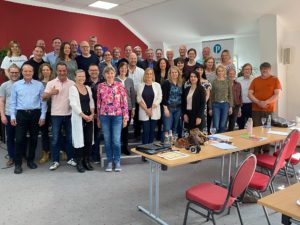 Magdeburg, Germany 2022 (Class 1)
Magdeburg, Germany 2022 (Class 2)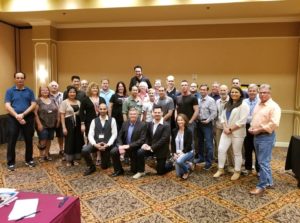 Las Vegas Class 2018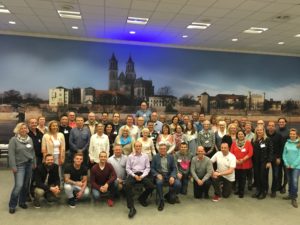 Magdeburg, Germany 2017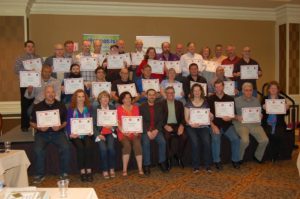 Las Vegas Class, 2017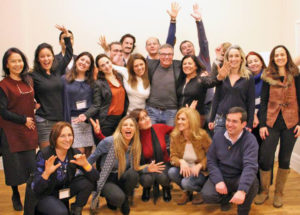 Lisbon class,2017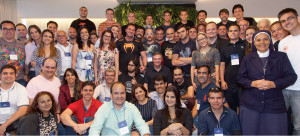 Brasil class, 2015