Coming Soon
Augusta, GA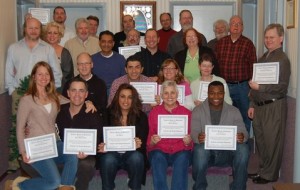 A New Location!
Welcome to the Atlantic Hypnosis Institute's new location in Augusta, Georgia, and the  Instant Hypnosis Class!
What is the Instant Hypnosis Course?
This course teaches and refines the most important skills of hypnosis. Whether you are an experienced hypnotist or a complete newbie, this course will give you exactly what you need!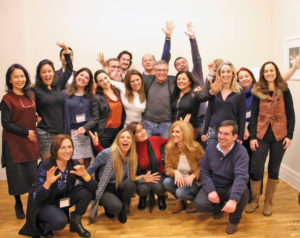 For the experienced hypnotist:
Learn Instant and Rapid Hypnosis! If you are truly honest with yourself, there are times when clients do not enter trance for you, whether that be in the hypnotherapy office, in a comedy hypnosis performance, or in a demonstration. There are also times when subjects do not get as deep as you need them. Why is this? Perhaps you're a bit rusty, or maybe other hypnosis classes you took did not offer sufficient practice. There could be many reasons, but the important thing is to address these weaknesses now! This is where the Keystone Course can help — your opportunity to add to your toolkit and polish the skills that you already have.
For the complete newbie:
You've wanted to learn hypnosis for some time. Perhaps you're interested in becoming a hypnotherapist, or maybe you'd like to try your hand at stage or street hypnosis — but can you really learn the most important parts of hypnosis in a weekend? Yes! Can you learn how to do instant and rapid hypnosis in a weekend? Yes! That is what the Instant and Rapid Hypnosis Course is all about.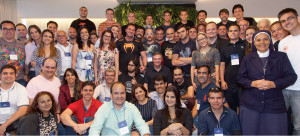 For those who want to become Certified Hypnotists:
So you want to become a certified hypnotist? There are many advantages to this. If you want to do hypnotherapy, being certified is a must. It doesn't matter how good you are — the certificate on the wall gives the client the confidence that you have proper training and are qualified to help them. And you want to study with a certifying organization that is recognized as world-class by hypnosis authorities.
The respected International Medical and Dental Hypnotherapy Association (IMDHA) has recently revised their certification requirements, embracing the 21st century reality that education has entered the digital age. One of the barriers that has long kept students from becoming certified is the onerous burden of spending at least two weeks away from work and family to attend certification training. This is no longer a problem!
Under the new criteria of IMDHA, only two days of live training is required. The remaining hours can be done virtually so that your dream of becoming a Certified Hypnotherapist can come true!
No corners are cut: you still have to complete 240 hours of instruction , but now you can do this from the comfort of you own home. And here's the best part: students who complete this two-day Instant Hypnosis course will satisfy the "live class" requirement for IMDHA! You will also receive a beautiful certificate from the Atlantic Hypnosis Institute AND, through an academic reciprocal agreement, from the Swiss Hypnosis Institute!
Both certificates will look fantastic on your wall and impress you clients!
For more information on IMDHA certification, click HERE.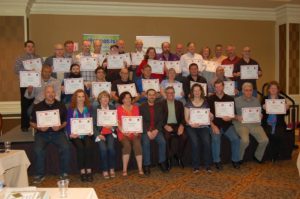 For Stage Performers: 
So what if you are a stage performer? Did you know that very few stage hypnotists are certified hypnotists? It's true! Check around and you'll see that the ones who are, make it a point to state that they are certified. It makes a difference. If a venue is looking at two hypnotists, all things being equal, and one is certified with one or more respected organizations, which hypnotist do you think the venue will hire?
The Hypnosis School and Facility:
About your instructor: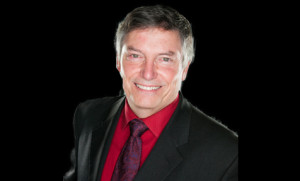 Sean Michael Andrews it a Certified Hypnotist and a Certified Instructor of Hypnosis.
Born in Baltimore, Maryland, USA, Sean spent the past four years doing hypnosis research in Heidelberg, Germany.
He is a graduate of Regents College (1999)
Sean is a Master Practitioner of NeuroLinguistic Programming (NLP) and one of the few Practitioners who has trained with both co-developers of NLP.
He is the author of two books:
Who, Me? (2015)
Street Hypnosis (2016)
He is also the author of six educational video products.
Sean is in demand at hypnosis conferences around the world and has presented at:
National Guild of Hypnotists (Marlborough, MA)
American Council of Hypnotist Examiners (Los Angeles, CA)
International Medical and Dental Hypnotherapy Association (Daytona Beach, FL)
Mid-America Hypnosis Conference (Chicago, IL)
Canadian Hypnosis Conference (Toronto, ON)
Hypnothoughts Live Conference (Las Vegas, NV)
Hypnosis Congress (Zurich, Switzerland)
UK Hypnosis Convention (London, England)
An accomplished stage hypnotist, Sean is one of only two hypnotists ever to have performed a show at three hypnosis conferences in one year!
He is the Supervising Instructor for the Dave Elman Hypnosis Institute as well as a qualified nursing hypnosis instructor. He has taught hypnotic pain control to anesthesiologists in Adelaide, South Australia, and nurse anesthetists in Orlando, Florida.
Sean has taught in the following countries:
USA
Canada
Mexico
Germany
Switzerland
Belgium
Spain
United Kingdom
Netherlands
Australia
Denmark
Poland
Portugal
Brazil
Singapore
Thailand
Romania
In addition, Sean has appeared on Television in the following countries:
Canada
Poland
Romania
Denmark
Currently, Sean is the Director and Senior Instructor for the Atlantic Hypnosis Institute in Augusta, Georgia, teaching courses such as:
Instant and Rapid Hypnosis
Dave Elman's Best Practices
Medical Hypnosis and Pain Management Techniques
Body Language and NLP
Hypnotic Age Regression Techniques
He is the former Senior Hypnotherapist at:
Maryland Family Hypnosis
Northern Virginia Family Hypnosis
In 2018, Sean Michael Andrews was chosen as "Hypnotist of the Year" by the International Association or Counselors and Therapists. In 2013 he was chosen as the "Hypnotist of the Year" at the Mid-America Hypnosis Conference in Chicago, and in 2016 he was chosen as Mid-America's "Educator of the Year."
Many people consider him to be "The World's Fastest Hypnotist."
He is certified with:
National Guild of Hypnotists
National Board of Hypnosis Education and Certification
International Medical & Dental Hypnotherapy Association
Society of Neuro-Linguistic Programming